Radio and Television Experience
Adam McManus has honed his talk show skills through a variety of different venues. He's hosted a daily, call-in talk show on four different radio stations over a 20-year span. Most recently, he hosted a daily, three-hour radio talk show on 630 KSLR, a Salem Communications affiliate, in San Antonio, Texas for 13 years. He was voted both the favorite talk show host and favorite radio personality of the Alamo City according to the San Antonio Express-News Reader's Choice poll.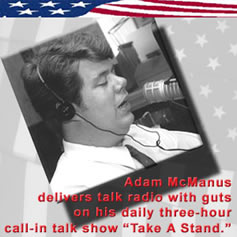 In addition, Adam has also guest hosted on a national level for G. Gordon Liddy on 250 stations, Kerby Anderson on 360 stations, Tony Perkins on 337 stations, Janet Folger Porter on 150 stations, CrossTalk on 75 stations, and co-hosted with the late Marlin Maddoux of Point of View on 360 stations. Plus, he has filled in for Joe Walsh on 560, The Answer in Chicago, Illinois; Dan Patrick and Sam Malone on 700, KSEV in Houston, Texas; Ben Ferguson and Chris Krok on 820, WBAP in Dallas, Texas; Grant Stinchfield on 570, KLIF in Dallas, Texas; Joe Pags on 1200, WOAI in San Antonio, Texas; Trey Ware, Jack Riccardi and Sean Rima on 550, KTSA in San Antonio, Texas; for Rob Williams on 1620, WNRP in Pensacola, Florida; and Dana Sturgeon on 1210, KPRZ in San Diego, California.
He gave his listeners a seat on the front row as he broadcast live from the National Republican Convention, the Conservative Political Action Conference, Christian Coalition's Road to Victory conference, Family Research Council's Values Voter Summit, the International Christian Retail Show, the March for Life in Washington, D.C. and the Inauguration of President George W. Bush.
Adam also has television experience. Not only did he provide two-minute long television editorials on the 5-million watt WKFT-TV which aired daily at 11:58 a.m. and 7:58 p.m. in Raleigh and Fayetteville, North Carolina, but he hosted a weekly, call-in TV talk show in Raleigh, North Carolina for four years which won The Southern Sunshine Video Festival Award in 1994 for "Best Talk Show" in the Southeastern region of nine states. For more details, check out Adam's extensive resume.
Philosophy
Adam McManus is an articulate champion of the traditional values that have made this country great. He systematically rejects the moral relativism which has led to the unraveling of America's strong societal fabric. Whether he's talking about politics, pop culture or family life, he has the candor and courage to tell the truth. And he does it all in a winsome and witty way.
Style
Adam McManus is passionate, provocative, yet personable. He delivers a fast-paced show that's equally entertaining and hard-hitting. Not only does he relate to and connect with the listeners well, but Adam has the ability to engage them in civil dialogue.
Format
Adam McManus is unique. He delivers a healthy mix of topical "red meat" political issues devoured by the conservative base combined with broadly appealing human interest stories, author interviews, and pop culture critiques of the latest movies, music and TV shows. It's a recipe for great radio which will not only retain your current audience, but also expand it beyond the normal ideological divide. In addition, Adam loves to debate the morally-confused liberals including Rev. Al Sharpton, Alan Colmes, a Playboy Playmate, and Satanic High Priest Michael Aquino. Listen to the audio of some of his debates and newsmaker interviews.
Preparedness
Adam McManus has developed a reputation as one of the most well-prepared local radio talk show hosts in the country. For example, when he schedules an author on the show, Adam will read the book, cover to cover, word for word. His guests have consistently expressed their utter delight that he has actually studied the book — underlining key quotes — and therefore can conduct an informed, thought-provoking interview. In addition to reading the local and national daily newspapers, Adam reads stacks of magazines, newsletters and press releases to stay current. Without a doubt, Adam places a strong emphasis on show preparation and thorough research. Read why 39 of Adam's guests think he's one of the best radio hosts in the country.
Uniqueness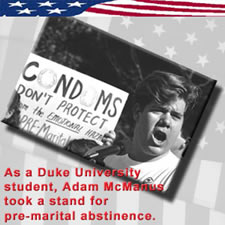 Because Adam McManus believes talk radio listeners should do more than just complain about society's moral decay, he has empowered his audience to take a stand. It's time to reclaim the culture without apology. Toward that end, Adam wants not only to inform and educate his listeners, but to empower them. Whether there's an issue before the local school board or the Congress itself, he committed to promoting a practical plan of action. He's genuinely concerned about using his influence for positive change.
Champion of Social Media
Adam McManus knows well that it's not enough to simply host an excellent radio show. In order to maximize the exposure for his talk show, he sent out a daily e-blast to 5,100 of his most loyal listeners which contained the topics, guests, action steps and related story links. Plus, he had active Twitter and Facebook accounts. A top-notch host integrates all platforms including terrestrial radio, regular email contact, the radio website, and social media outlets. The key to success is to include the off-air voices on air as well as continue the conversation 24/7.
A Sales Manager's Dream
Adam McManus' objective is to drive revenue and profits. Toward that end, he builds immediate rapport with new clients, takes meticulous notes during the first meeting, and delivers fresh, heart-felt live endorsements. In addition, because Adam has consistently sold radio advertising for 20 years, he can, if needed, help close the sale with your sales person.
"After we hired Adam, our local billing more than doubled from $28,000 to $70,000 per month! Plus, we billed an additional $200,000 in non-traditional revenue through sponsorships of his remote broadcasts from events like the Nat'l GOP Convention. Over time, he raised $900,000+ for multiple charities. When he wasn't on the air, he was a full-time PR person for the station, sending out press releases for hot topics, generating gobs of media coverage which made it easy to sell his show. He was accessible, and, unlike other hosts, he's not a prima donna. If you're looking for new talent, hire Adam!"

Jim Vance
Former Sales Manager
630, KSLR
Salem Communications
San Antonio, Texas
Tea Party Patriot
Adam McManus emceed the historic San Antonio Tea Party in front of the Alamo on April 15, 2009 which featured Fox News Channel's Glenn Beck, conservative rocker Ted Nugent and country musician Steve Vaus. Not only did Adam lead the 16,000 attendees in prayer, but he gave a rousing speech.
Media Exposure
Adam McManus has appeared on the San Antonio, Texas affiliates of ABC, CBS, FOX, NBC, Telemundo and Univision. Nationally speaking, he has appeared on A Current Affair and The Coral Ridge Hour with the late D. James Kennedy.
His columns have been published at WorldNetDaily.com and in the San Antonio Express News. Plus, he's been quoted in the New York Times, Washington Times, Fort Worth Star-Telegram, San Antonio Express-News, Raleigh News & Observer, and the Durham Herald-Sun. Check out his quotes in these publications.
Celebrity Endorsements
Adam has been endorsed by Sean Hannity, the late Chuck Colson, Ann Coulter, John Stossel, Michael Medved, David Limbaugh, Pat Buchanan, Jerry Jenkins, Gary Bauer, and Joseph Farah. Hannity proclaimed, "I just hope Fox News doesn't come across his resume any time soon or I might be out of a job." And Colson declared, "Adam's questions were sharp, to the point, and he kept the program moving beautifully. I have been through literally thousands of book interviews in my life. This was one of the best. Adam's very good at his craft." Check out why 22 well-known conservative leaders are raving about McManus.
Personal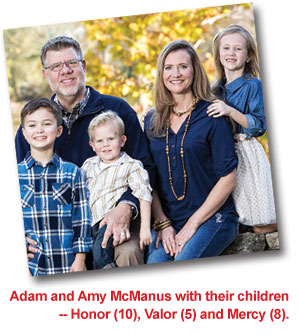 Adam was raised in a media-saturated home. His father is Mike McManus, a nationally syndicated columnist, former Time Magazine correspondent, author and founder of the Marriage Savers ministry which seeks to cut the divorce rate in half. Throughout Adam's high school years, he was tasked by his father with editing the column before it was distributed. Plus, he learned how to articulate and defend his opinions about the issues of the day around the dining room table as his father played Devil's advocate.
The eldest of three boys including John, a medical lobbyist in Washington, D.C. and Tim, a hospital CEO in Richmond, Virginia, Adam attended Duke University in Durham, North Carolina.
After getting married to the former Amy Holzer of Dallas on November 11, 2006, they adopted their son Honor (10) and had Mercy (8) and Valor (5). Check out www.AdamsWedding.net for his gut-wrenchingly honest roller coaster of a love story. They attend Wayside Chapel, an Evangelical Free church in San Antonio, where they enjoy the sermons of Roger Poupart, a former Dallas cop.
---
---